Wallowa Lake Camp 100-Year Anniversary Celebration
Site: Wallowa Lake Camp
Dates: 8/19/2022 – 8/21/2022
Age Level: All Ages
Cost: see below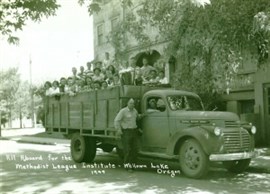 JOIN THE FUN!
Wallowa Lake United Methodist Camp 100 Year Anniversary Celebration!
84522 Church Lane, Joseph, OR. 97846
Friday, August 19 – Sunday, August 21, 2022
Come for the night, day or weekend! 
Friday 7:00pm Dulcimer Benefit Concert (free, donations welcome) Concert Press Release
Saturday 1:00pm – evening Activities include tours of camp, historical display, crafts, music,
refreshments, items for sale, silent auction, dinner, live auction, campfire and more…
---
Overnight reservations include: 2 nights lodging, continental breakfasts and all of the above!
Price includes all guests staying in that cabin (up to the max).
Must be paid in advance; checks to Wallowa Lake Camp / 84522 Church Lane, Joseph, OR 97846-sorry, no refunds due to very limited capacity –
One Room Deluxe Cabins: $350.00 3-5 guest max
Two Bedroom Deluxe Cabins: $450.00 6 guest max
Floyd White older Cabin: $450.00 7 guest max
Rustic Rooms: $250.00 per room 8 guest max
Quad Rooms: $ 50.00 per person (shared lodging) 7-8 max
RVs self-contained or walk to showers / tents, dry camping: $50.00 per person

Day Use free, donations welcome (Please register so we have #s – wallowalakecamp@gmail.com / 541-432-1271)
---
Guests will be expected to clean their cabin / room before departing.
Sorry, no pets are allowed at camp.
No smoking or non-prescribed drugs are allowed at camp.
---
If Wallowa Lake Camp lodging is full, please check on the Wallowa County Chamber of Commerce website for more places to stay!